Product Details
Custom Matching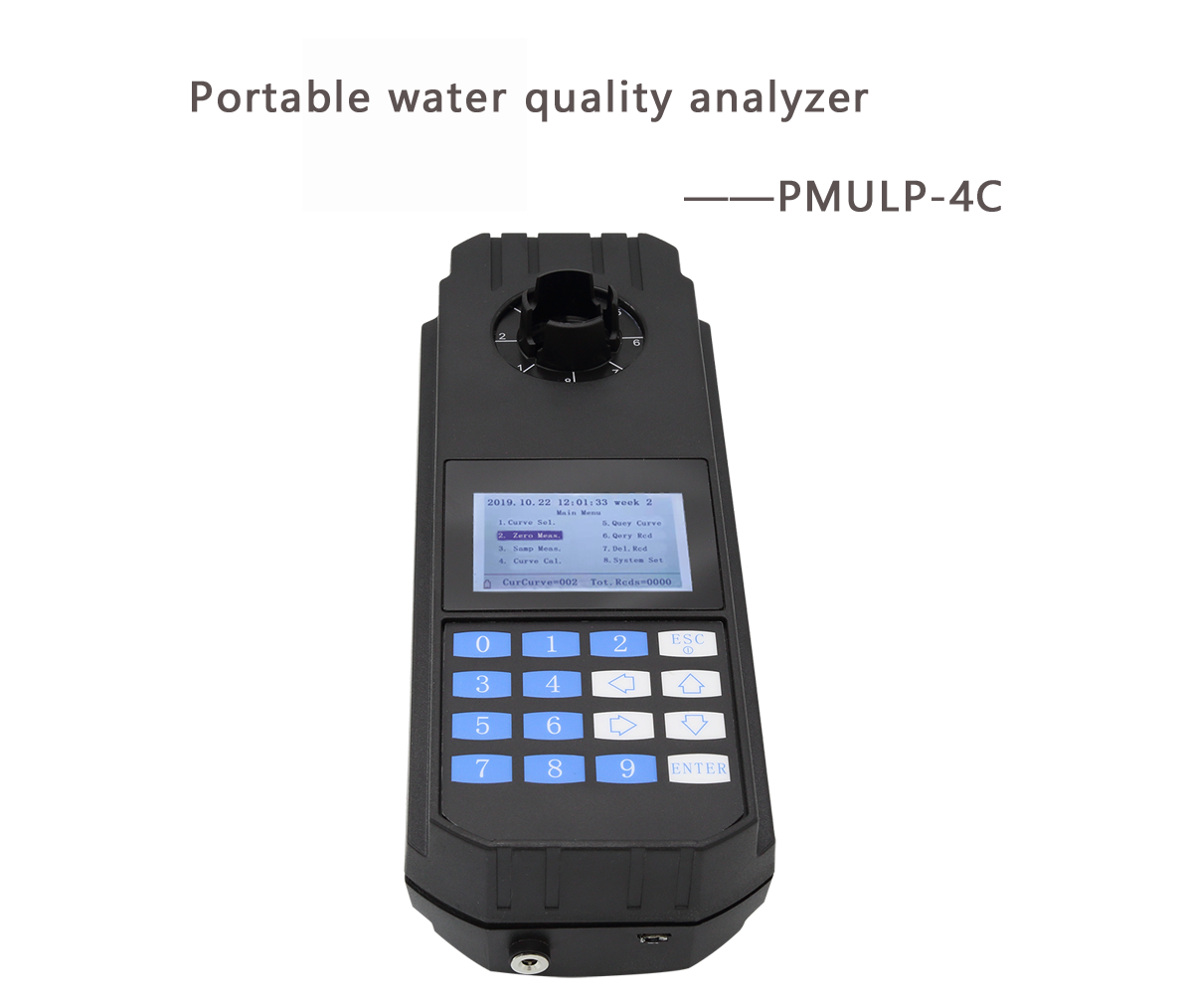 Technical indicators
【Host】
Number of channels:
4
Wavelengths:

420 nm, 440 nm, 470 nm, 510 nm, 520 nm, 540 nm, 560 nm, 600 nm, 610 nm, 630 nm, 660 nm, and 700 nm Any of the above four wavelengths can be customized.

Wavelength accuracy:
center wavelength ± 1nm
Measurement parameters:
35 parameters such as CODMn, copper, iron, nickel, hexavalent chromium, phosphate, nitrite, etc. Customers can customize the measured parameters according to their needs.
Optical stability:
the absorbance drift is less than 0.002A within 20min
Host size:
80mm × 230mm × 55mm
Instrument characteristics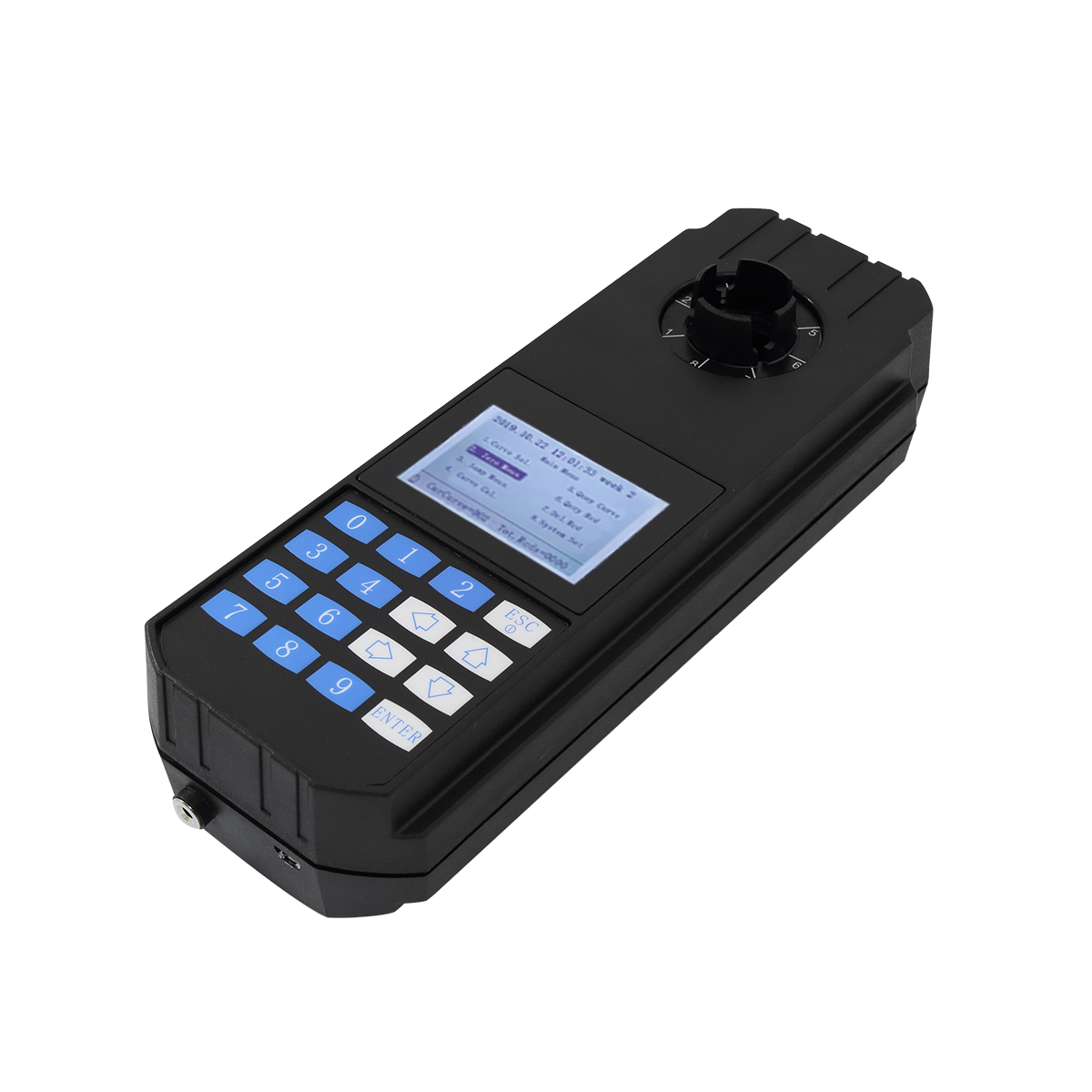 1. Cold light source, narrow-band interference optical system, good optical stability.
2. Wavelength is automatically selected when measuring samples, no adjustment is required.
3. The optical part of the instrument is strictly controlled to ensure its high performance.
4. With USB port, you can connect to the computer for record reading or print the stored data.
5. LCD large-screen LCD display, easy to operate and intuitive.
6. The mainframe casing is molded with ABS material and designed with IP65. It has good waterproof and dustproof performance.
Test items
| | | | | |
| --- | --- | --- | --- | --- |
| Serial number | Measurement items | Determination range | Company | Maximum error |
| 1 | Ammonia nitrogen (low range) | 0.02-5.00 | mg/L | 3%(F.S) |
| 2 | Ammonia nitrogen (high range) | 5.00-25.00 | mg/L | 3%(F.S) |
| 3 | CODMn(Permanganate index) | 0.00-10.00 | mg/L | 0.2Or5% |
| 4 | Residual chlorine (low range) | 0.02-2.00 | mg/L | 0.1Or5% |
| 5 | Residual chlorine (high range) | 2.00-10.00 | mg/L | 5% |
| 6 | Total chlorine (low range) | 0.02-2.00 | mg/L | 0.1Or5% |
| 7 | Total chlorine (high range) | 2.00-10.00 | mg/L | 5% |
| 8 | Chlorine dioxide (low range) | 0.05-2.00 | mg/L | 0.2Or5% |
| 9 | Chlorine dioxide (high range) | 2.00-20.00 | mg/L | 5% |
| 10 | Sulfate | 5-200 | mg/L | 5% |
| 11 | Nitrate (nitrogen) | 0.02-10.0 | mg/L | 0.1Or5% |
| 12 | Phosphate (low range) | 0.01-10.0 | mg/L | 0.2Or5% |
| 13 | Phosphate (high range) | 10.0-50.0 | mg/L | 5% |
| 14 | Nitrite nitrogen (low) | 0.02-1.0 | mg/L | 0.05Or5% |
| 15 | Nitrite nitrogen (high) | 1.0-5.0 | mg/L | 5% |
| 16 | Sulfide | 0.005-1.000 | mg/L | 5%(F.S) |
| 17 | Fluoride | 0.05-2.0 | mg/L | 5%(F.S) |
| 18 | Cyanide | 0.01-0.50 | mg/L | 5%(F.S) |
| 19 | Bromide | 0.10-5.00 | mg/L | 5%(F.S) |
| 20 | Formaldehyde | 0.05-2.5 | mg/L | 5%(F.S) |
| 21 | Volatile phenol(Low) | 0.20-5.0 | mg/L | 5%(F.S) |
| 22 | Volatile phenol (high) | 5.0-10.0 | mg/L | 5%(F.S) |
| 23 | Hydrazine | 0.01-0.50 | mg/L | 5%(F.S) |
| 24 | Anilines(Low) | 0.03-1.0 | mg/L | 5%(F.S) |
| 25 | Aniline compounds (high) | 1.0-5.0 | mg/L | 5%(F.S) |
| 26 | Silicon dioxide | 0.01-5.00 | mg/L | 5%(F.S) |
| 27 | Total alkalinity(Low) | 0-100 | mg/L | 5%(F.S) |
| 28 | Total alkalinity (high) | 100-1000 | mg/L | 5%(F.S) |
| 29 | Total hardness(Low) | 0.1-5.0 | mg/L | 5%(F.S) |
| 30 | Total hardness (high) | 5.0-200.0 | mg/L | 5%(F.S) |
| 31 | Chloride ion (chloride) | 0.20-100.0 | mg/L | 5%(F.S) |
| 32 | Copper(Low) | 0.02-1.0 | mg/L | 5%(F.S) |
| 33 | Copper (high) | 1.0-10.0 | mg/L | 5%(F.S) |
| 34 | Zinc | 0.2-5.0 | mg/L | 5%(F.S) |
| 35 | Nickel(Low) | 0.02-0.50 | mg/L | 5%(F.S) |
| 36 | Nickel (high) | 0.50-1.00 | mg/L | 5%(F.S) |
| 37 | Nickel | 0.02-10.0 | mg/L | 5%(F.S) |
| 38 | Iron(Low) | 0.0-5.0 | mg/L | 5%(F.S) |
| 39 | Iron (high) | 5.0-10.0 | mg/L | 5%(F.S) |
| 40 | Six valence chromium | 0.01-1.00 | mg/L | 5%(F.S) |
| 41 | Cadmium | 0.05-0.50 | mg/L | 5%(F.S) |
| 42 | Manganese(Low) | 0.01-0.10 | mg/L | 5%(F.S) |
| 43 | Manganese (high) | 0.10-1.0 | mg/L | 5%(F.S) |
| 44 | Manganese | 0.02-5.00 | mg/L | 5%(F.S) |
| 45 | Total chromium | 0.02-1.0 | mg/L | 5%(F.S) |
| 46 | Aluminum(Low) | 0.01-0.40 | mg/L | 5%(F.S) |
| 47 | Aluminum (high) | 0.40-4.00 | mg/L | 5%(F.S) |
| 48 | Silver | 0.01-1.00 | mg/L | 5%(F.S) |
| 49 | Molybdenum | 0.05-1.00 | mg/L | 5%(F.S) |
| 50 | Arsenic(Low) | 0.004-0.100 | mg/L | 5%(F.S) |
| 51 | Arsenic (high) | 0.100-0.500 | mg/L | 5%(F.S) |
| 52 | Beryllium | 0.001-0.10 | mg/L | 5%(F.S) |
| 53 | Boron | 0.10-2.00 | mg/L | 5%(F.S) |
| 54 | Mercury | 0.002-0.50 | mg/L | 5%(F.S) |
| 55 | Lead | 0.01-0.50 | mg/L | 5%(F.S) |
| 56 | Chroma(Low range) | 5-50 | PCU | 3%(F.S) |
| 57 | Chroma(Gao liangcheng) | 50-500 | PCU | 3%(F.S) |
| 58 | Turbidity | 0-400 | NTU | Less than2%(F.S) |
| 59 | Suspended solids | 5-1000 | mg/L | Less than2%(F.S) |
| 60 | PH(colorimetry) | 5.00-8.00 | PH | 0.1 0.1 |
| 61 | Dissolved oxygen (colorimetry) | 0.1-10.0 | mg/L | 0.1 5% |
| 62 | Ozone | 0.01-2.5 | mg/L | 5%(F.S) |
| 63 | Anionic surfactant | 0.01-1.0 | mg/L | 5%(F.S) |
| 64 | Available chlorine | 0.0-100.0 | mg/L | 5%(F.S) |
| 65 | Chlorite | 0.00-20.00 | mg/L | 5%(F.S) |
| 66 | Antimony | 0.05-10.0 | mg/L | 5%(F.S) |
| 67 | Iodide | 0.02-1.00 | mg/L | 5%(F.S) |
| 68 | Barium | 0.00-5.00 | mg/L | 5%(F.S) |