Product Details
Custom Matching
GW-2000 Multi-parameter Water Quality Analyzer
1. Collecting electrode, cuvette and cuvette together.
2. Automatic wavelength selection.
3. Data will not lose even when power is cut off.
4. 5-inch large-screen color touch screen, both Chinese and English display
5. With one-click recovery function.
Working Principle

PH and conductivity are measured by electrochemical sensors; turbidity is measured by light scattering or scattering + transmission; others are measured by optical colorimetry.
Technical Parameter
【Host】
Repeatability:
≤3%
Weight:
4Kg
Reading mode:
concentration, absorbance, light transmittance
Measurement parameters:
See the chart in detail (1) Water quality measurement parameters list
Dimensions:
410mm × 300mm × 130mm
Features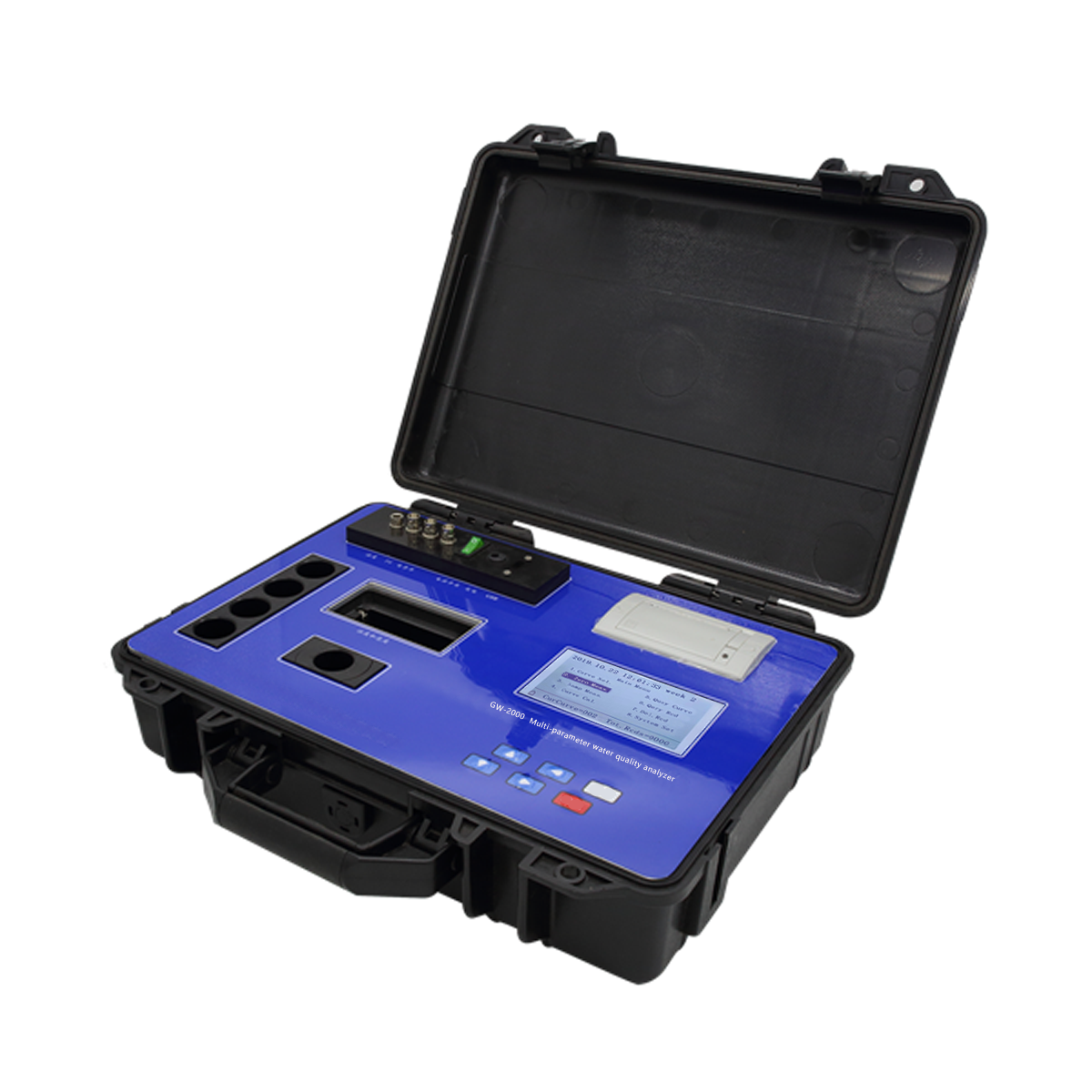 The wavelength is automatically selected when measuring the sample and no calibration is required.
It is operated with a 5-inch large-screen color touch screen and is user-friendly.
The multi-parameter water quality detector is convenient for carrying on-site inspection.
Optical colorimetry and electrochemical detection are performed on one instrument, and the detection interface is displayed on the same screen.
With data storage and deletion function, it can store curves and data with time stamps, and can store 300 curves and 1000 records.
With USB interface and host computer data acquisition software, data records can be transferred to the computer.
Cold light source, narrow-band interference optical system, good optical stability.
Data power-off protection function with record printing function.
It is powered by a rechargeable lithium battery and has a battery detection function.
Imported high-performance turbidity and colorimetric sensors to make low-range turbidity and colorimetric measurements more accurate.
We can expand and customize measurement items according to user requirements, in order to achieve the best price/performance ratio.
The system has a bilingual function that can be switched between Chinese and English.
One-click recovery, one-click recovery when factory curves and user curve data records are lost due to accidents.
With various security measures, you can set the boot and system settings to enter the password.
With its own calibration function, self-calibration during operation can effectively eliminate the drift error caused by long-term use.