Product Details
Custom Matching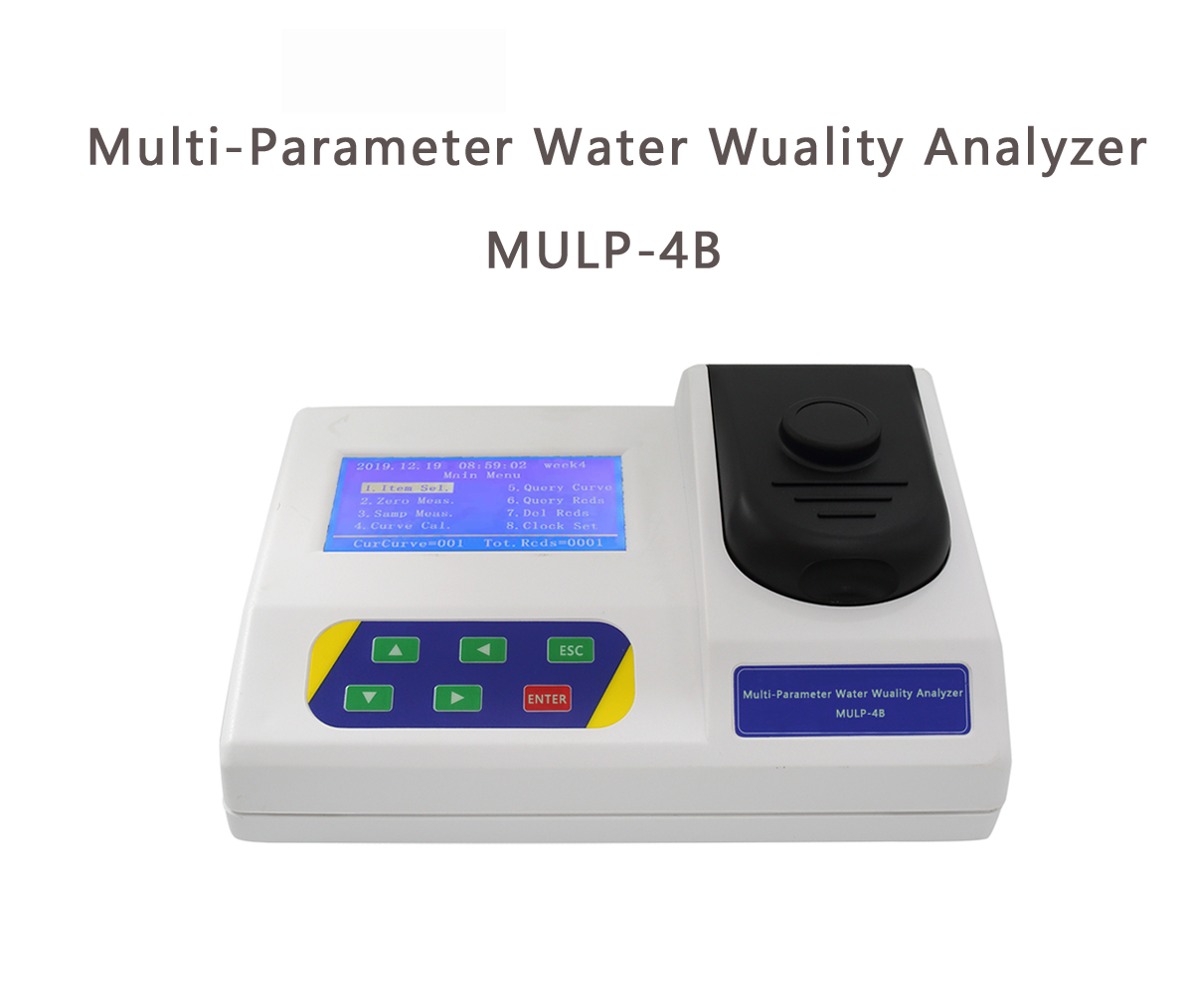 technical parameter
【Main Engine】
wavelength:
420nm, 440nm, 470nm, 510nm, 520nm, 540nm, 560nm, 600nm, 610nm, 630nm, 660nm, 700nm or customize any of the above four wavelengths
measurement parameters:
copper, iron, nickel, hexavalent chromium, phosphate, nitrite and other more than 100 parameters, user-customizable parameters.
wavelength accuracy:
center wavelength ± 1nm
optical stability:
the absorbance drift within 20min is less than 0.002A
external dimensions:
host: 266mm × 200mm × 130mm
weight:
less than 1kg
Features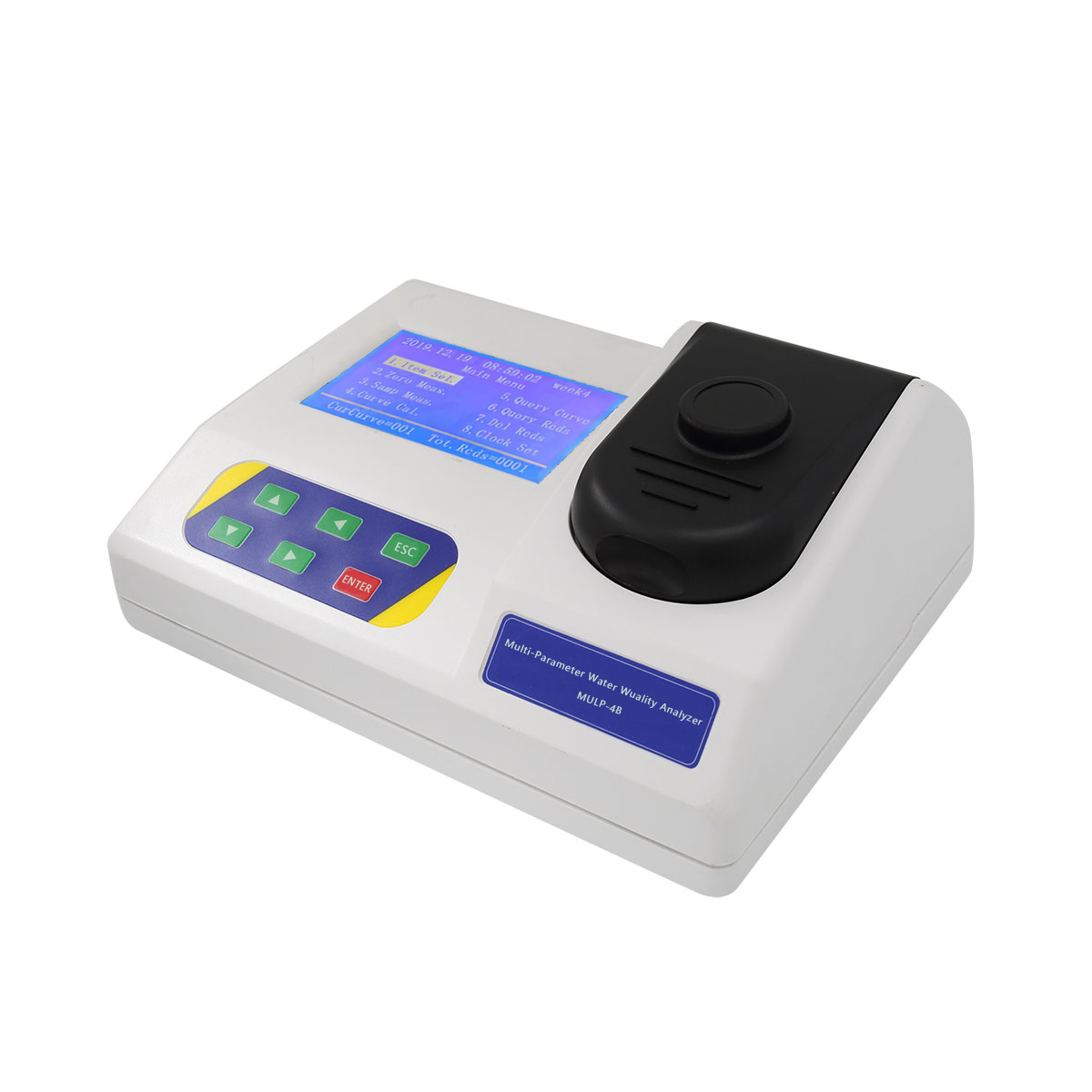 1. The wavelength is automatically selected when measuring the sample, no need to adjust.

2, the wavelength repeatability is excellent, basically can achieve no error.
3. The optical part of the instrument is strictly controlled to ensure its high performance.
4, LCD large screen Chinese menu operation, convenient and intuitive.
The following test items can be selected
| | | | | |
| --- | --- | --- | --- | --- |
| Serial number | Measurement items | Determination range | Company | Maximum error |
| 1 | Ammonia nitrogen (low range) | 0.02-5.00 | mg/L | 3%(F.S) |
| 2 | Ammonia nitrogen (high range) | 5.00-25.00 | mg/L | 3%(F.S) |
| 3 | CODMn(Permanganate index) | 0.00-10.00 | mg/L | 0.2Or5% |
| 4 | Residual chlorine (low range) | 0.02-2.00 | mg/L | 0.1Or5% |
| 5 | Residual chlorine (high range) | 2.00-10.00 | mg/L | 5% |
| 6 | Total chlorine (low range) | 0.02-2.00 | mg/L | 0.1Or5% |
| 7 | Total chlorine (high range) | 2.00-10.00 | mg/L | 5% |
| 8 | Chlorine dioxide (low range) | 0.05-2.00 | mg/L | 0.2Or5% |
| 9 | Chlorine dioxide (high range) | 2.00-20.00 | mg/L | 5% |
| 10 | Sulfate | 5-200 | mg/L | 5% |
| 11 | Nitrate (nitrogen) | 0.02-10.0 | mg/L | 0.1Or5% |
| 12 | Phosphate (low range) | 0.01-10.0 | mg/L | 0.2Or5% |
| 13 | Phosphate (high range) | 10.0-50.0 | mg/L | 5% |
| 14 | Nitrite nitrogen (low) | 0.02-1.0 | mg/L | 0.05Or5% |
| 15 | Nitrite nitrogen (high) | 1.0-5.0 | mg/L | 5% |
| 16 | Sulfide | 0.005-1.000 | mg/L | 5%(F.S) |
| 17 | Fluoride | 0.05-2.0 | mg/L | 5%(F.S) |
| 18 | Cyanide | 0.01-0.50 | mg/L | 5%(F.S) |
| 19 | Bromide | 0.10-5.00 | mg/L | 5%(F.S) |
| 20 | Formaldehyde | 0.05-2.5 | mg/L | 5%(F.S) |
| 21 | Volatile phenol(Low) | 0.20-5.0 | mg/L | 5%(F.S) |
| 22 | Volatile phenol (high) | 5.0-10.0 | mg/L | 5%(F.S) |
| 23 | Hydrazine | 0.01-0.50 | mg/L | 5%(F.S) |
| 24 | Anilines(Low) | 0.03-1.0 | mg/L | 5%(F.S) |
| 25 | Aniline compounds (high) | 1.0-5.0 | mg/L | 5%(F.S) |
| 26 | Silicon dioxide | 0.01-5.00 | mg/L | 5%(F.S) |
| 27 | Total alkalinity(Low) | 0-100 | mg/L | 5%(F.S) |
| 28 | Total alkalinity (high) | 100-1000 | mg/L | 5%(F.S) |
| 29 | Total hardness(Low) | 0.1-5.0 | mg/L | 5%(F.S) |
| 30 | Total hardness (high) | 5.0-200.0 | mg/L | 5%(F.S) |
| 31 | Chloride ion (chloride) | 0.20-100.0 | mg/L | 5%(F.S) |
| 32 | Copper(Low) | 0.02-1.0 | mg/L | 5%(F.S) |
| 33 | Copper (high) | 1.0-10.0 | mg/L | 5%(F.S) |
| 34 | Zinc | 0.2-5.0 | mg/L | 5%(F.S) |
| 35 | Nickel(Low) | 0.02-0.50 | mg/L | 5%(F.S) |
| 36 | Nickel (high) | 0.50-1.00 | mg/L | 5%(F.S) |
| 37 | Nickel | 0.02-10.0 | mg/L | 5%(F.S) |
| 38 | Iron(Low) | 0.0-5.0 | mg/L | 5%(F.S) |
| 39 | Iron (high) | 5.0-10.0 | mg/L | 5%(F.S) |
| 40 | Six valence chromium | 0.01-1.00 | mg/L | 5%(F.S) |
| 41 | Cadmium | 0.05-0.50 | mg/L | 5%(F.S) |
| 42 | Manganese(Low) | 0.01-0.10 | mg/L | 5%(F.S) |
| 43 | Manganese (high) | 0.10-1.0 | mg/L | 5%(F.S) |
| 44 | Manganese | 0.02-5.00 | mg/L | 5%(F.S) |
| 45 | Total chromium | 0.02-1.0 | mg/L | 5%(F.S) |
| 46 | Aluminum(Low) | 0.01-0.40 | mg/L | 5%(F.S) |
| 47 | Aluminum (high) | 0.40-4.00 | mg/L | 5%(F.S) |
| 48 | Silver | 0.01-1.00 | mg/L | 5%(F.S) |
| 49 | Molybdenum | 0.05-1.00 | mg/L | 5%(F.S) |
| 50 | Arsenic(Low) | 0.004-0.100 | mg/L | 5%(F.S) |
| 51 | Arsenic (high) | 0.100-0.500 | mg/L | 5%(F.S) |
| 52 | Beryllium | 0.001-0.10 | mg/L | 5%(F.S) |
| 53 | Boron | 0.10-2.00 | mg/L | 5%(F.S) |
| 54 | Mercury | 0.002-0.50 | mg/L | 5%(F.S) |
| 55 | Lead | 0.01-0.50 | mg/L | 5%(F.S) |
| 56 | Chroma(Low range) | 5-50 | PCU | 3%(F.S) |
| 57 | Chroma(Gao liangcheng) | 50-500 | PCU | 3%(F.S) |
| 58 | Turbidity | 0-400 | NTU | Less than2%(F.S) |
| 59 | Suspended solids | 5-1000 | mg/L | Less than2%(F.S) |
| 60 | PH(colorimetry) | 5.00-8.00 | PH | 0.1 0.1 |
| 61 | Dissolved oxygen (colorimetry) | 0.1-10.0 | mg/L | 0.1 5% |
| 62 | Ozone | 0.01-2.5 | mg/L | 5%(F.S) |
| 63 | Anionic surfactant | 0.01-1.0 | mg/L | 5%(F.S) |
| 64 | Available chlorine | 0.0-100.0 | mg/L | 5%(F.S) |
| 65 | Chlorite | 0.00-20.00 | mg/L | 5%(F.S) |
| 66 | Antimony | 0.05-10.0 | mg/L | 5%(F.S) |
| 67 | Iodide | 0.02-1.00 | mg/L | 5%(F.S) |
| 68 | Barium | 0.00-5.00 | mg/L | 5%(F.S) |
Preparation list
1 set of host, 10 colorimetric tubes, 1 set of reagents (10 parameters), 1 power cord, 1 copy of manual, certificate and warranty card